***WE ARE NOT TAKING IN FULL ENGINE BUILDS AT THIS TIME! Please refrain from emailing us

or contacting us regarding engine builds until we have removed this notice. We will make an announcement when we are able to take in more engine builds***
FULL ENGINE BUILDS
Well folks, I've been avoiding advertising my engine building services for a few reasons, so here is the scoop!
Yes, I will build your XS650 Engine. I have been building these engines for a while un-advertised, and mostly for fun. Hang with me for a moment, and you'll see what I require to build an engine for you.
Check this bike out, other than a Re-Phase and a 5th Gear overdrive, this engine is BONE STOCK internally and is even running stock carbs. I've ridden this bike, it performs flawlessly and puts a serious smile on my ugly mug...
Or you can have a Big Bore, Rephased, Cammed, Ported and Polished XS650 Engine running Lectron Carbs like this:
Hugh's Personal Engine Building Philosophy:
1. Do Not Rush Me - I enjoy building these engines, but if you think a large sum of cash or a checkbook is gonna put me in a hurry, forget about it. It takes time to do the job properly, and I will not sacrifice quality work so you can meet a deadline.
1.5 - DO NOT try to impose a deadline - I'm not on The Discovery Channel.
2. I will only build Re-Phased Engines - Why bother tearing it all the way down and NOT improving it.
3. There is a 15% mark up on parts - You can supply them if you like, or I can source them locally. Support your local Independent Parts House
4. No, I am not going to "Leave the Patina" on your old crusty XS650 Engine. A clean engine is a Happy Engine. That said, please do not bring me an oily nasty lump. I brush my teeth and floss before going to the dentist, and you should too...
5. No, I will not share all my secrets, tips and tricks. But I will incorporate them into your build. This is included in the labor charges. Consider it a bonus.
6. YES, I do have vendors I prefer to use for parts. I like to get my Big Bore stuff from
Gary Hoos over at Hoos Racing
, all my gaskets and small parts come from Mary over at City Cycle Supply, and of course the hard to find stuff comes from MikesXS. I use only USA made hardware when available.
7. No, I will not tune your carbs for you. If I have a weak link in my skillset, it is painting sheetmetal and tuning XS650 Carbs. I cannot tune for your riding style, environment, altitude, etc..
8. Yes, I will communicate with your during the build process to keep you informed of progress and/or parts needs. Any good vendor should be able to do this, but sadly most do not.
9. I only use Pamcopete for ignition - He is in South Carolina, a real honest and hard working American with excellent customer service and tech support.
10. I will not start an engine build without a 100% Deposit on parts, and labor deposit of 50% - The remaining balance can be paid upon pickup or shipping of the engine.
So, if I haven't turned you away from wanting a Hugh's HandBuilt engine by now, then we should probably start talking about the basics.
Labor
- I charge a modest $1350 in labor to build your engine. What does this include? I fully clean and disassemble all parts, Aqua Blast the cylinders, and head/head cover, repaint the top case and soda blast the lower case. I inspect all parts for wear and make sure all tolerances are up to par, or replace the parts as needed. I then chase ALL threads, repair poorly threaded holes, and reassemble slowly using proper torque specs and parts. I use all new hardware if possible. I will also degree in the camshaft to the crank for a perfectly timed engine. Then I do a 3 angle valve grind. I do not charge extra to install a big bore kit, although having your cylinders bored for oversize pistons is NOT included in my labor. I do not charge extra to install ANY aftermarket parts (i.e. Rods, 5th gear Over Drive, Clutches,Big Bore kits, valves, etc...)
Re-Phasing
- Educate yourself
about the process here
, -
why to build a proper crank
, -
and the benefits of doing so here......
Head Porting
- I will do a mild port job on your head for an extra $200.
NEW Parts
- I will use all new gaskets, seals, o-rings, copper washer, stainless hardware, camchain, cam chain guides, sump filter, oil filter, rocker arm plugs, 1 piece clutch rod, upgraded clutch throwout bearing, clutch springs, and clutch disks. The market is a little bit variable lately, but you can price all these parts yourself to get an idea of the basic cost of parts I will be installing.
REUSED Internal Parts:
I typically prefer to reuse stock bearings inside the engine if they are all in good shape. The aftermarket replacement bearings are nowhere near the quality of the originals. I will reuse the rods inside your engine if they are still in spec, although you are welcome to purchase new rods if you like. The oil pump will be checked for spec, and 99% of the time they are in good shape. Of course there is no indication of an engines life until it has been torn down.
External Parts:
What carbs, pipes, controls, etc.. you prefer are up to you. I'll be glad to work around your preferences. If you choose to add my
PMA Charging System
or any parts from
Pandemonium Cycles
I will not charge you extra to install them.
HOW LONG WILL THIS TAKE?
-
We don't cut corners....
___________________________________________________________________________________
***WE ARE NOT TAKING IN REPHASED BOTTOM END BUILDS AT THIS TIME! Please refrain from emailing us

or contacting us regarding engine builds until we have removed this notice. We will make an announcement when we are able to take in more engine builds***
Rephased Bottom End Build
Well folks, I'm finally getting into the middle of the road for you XS650 fans... Middle of the road?
Most of you know that we offer our exchange crank and cam services so you can build your own engine using our
277 Rephased Goodies
. Plenty of folks are capable of building their own engine, but not all are comfortable doing so. This is quick and cost effective for the customer willing to disassemble and reassemble their own engine.
Then we started offering
full engine building services
- being very time consuming and costly for the customer... We love building them, but have been backlogged on engine builds for a while, and sadly have been turning customers away almost everyday for engine builds.
So whats the middle of the road?
A Completely Rebuilt and Rephased Short Block XS650 Engine from Hugh's HandBuilt! Now anyone who is comfortable installing a top end on these engines can have all the hard work done and done correctly. This Bottom End has all the tricks and components we put in our full builds, and is ready for any top end you can throw at it. It has the build quality and components to handle anything from a daily rider to a race bike.
**These will be offered only when we have one pre-built and ready to go. So subscribe to the Blog for updates, we will post when

one is available. **
So what do you get? The Following Comes Pre-Assembled for you.
Rephased and Fully Welded Crankshaft
447 Rods
Fully Polished Bearings
5th Gear Overdrive Installed (when applicable)
Cases are Aqua Blasted and Fully Cleaned (Unpainted, Beautiful Natural Finish)
New Sump Filter
New Stainless Hardware
New EBC Clutch Disks
New EBC Clutch Springs
New HP Throwout Bearing
New HP Clutch Hardware
New 1 Piece Clutch Rod
New Camchain Pre-Installed (includes Master Link)
New Starter Gear Fix (when applicable)
New Bottom End Oil Seals
New Gaskets
New Shift Shaft Assembly
Electric Starter and all gears pre-installed.
What else is included in the purchase?
Matching 447 Rephased Camshaft
Base gasket
Head gasket
All Misc. Gaskets Needed for rebuild
All Oil Seals Needed for rebuild
Stainless Hardware Kit
New Side Cover Oil Filter
So basically, here is how this works... You send us your bottom end and camshaft as a core. You will remove the entire top end, pistons, cylinders, head studs, etc.. Keep your engine side covers, cam chain tensioner and tension arm, charging system, chain sprocket and nut. We prefer you ship the bottom end to us on an engine stand (TC Bros makes a nice one) and in a well protected crate/box. The only thing we ask is that your bottom end is not seized or damaged.
We will then ship you our Bottom End as soon as we verify your core as rebuildable. And all you have to do is reinstall your top end and go. This can easily happen in a weekend for most of you folks.
If you prefer to have our bottom end in hand before shipping us your bottom end, we charge a $500 core charge which is refundable after we receive your core. We are happy to work with you as best we can.
We accept Check/Mo/Cash and interesting trades. Paypal can be accepted under certain conditions, and Paypal fees will be added to the purchase.
We can easily add a
Hugh's HandBuilt Permanent Magnet Alternator
to these unit for no extra labor costs if you so choose, just let us know.
___________________________________________________________________________________
Build It Yourself!! Use our Hot Rod Rephased XS650 Crank and Camshaft to Build your own

...
Thats right, you can build your own Rephased XS650 Engine yourself. Just send us your Crank and Camshaft, and we'll modify them for you. This is by far the least expensive route to take if you are confident in building your own XS650 engine.
Rephased XS650 - Hot Rod Engine Parts!!!
Exchanged crank build (provided all bearings, rods, etc are in good shape). I fully disassemble the crank, check all tolerances, polish all bearing surfaces, re-phase the crank, true the crank, fully TIG weld all the pressed joints (for high RPM reliability), and send it back to you ready to bolt in. If new parts are needed, the only cost is the parts, no extra labor.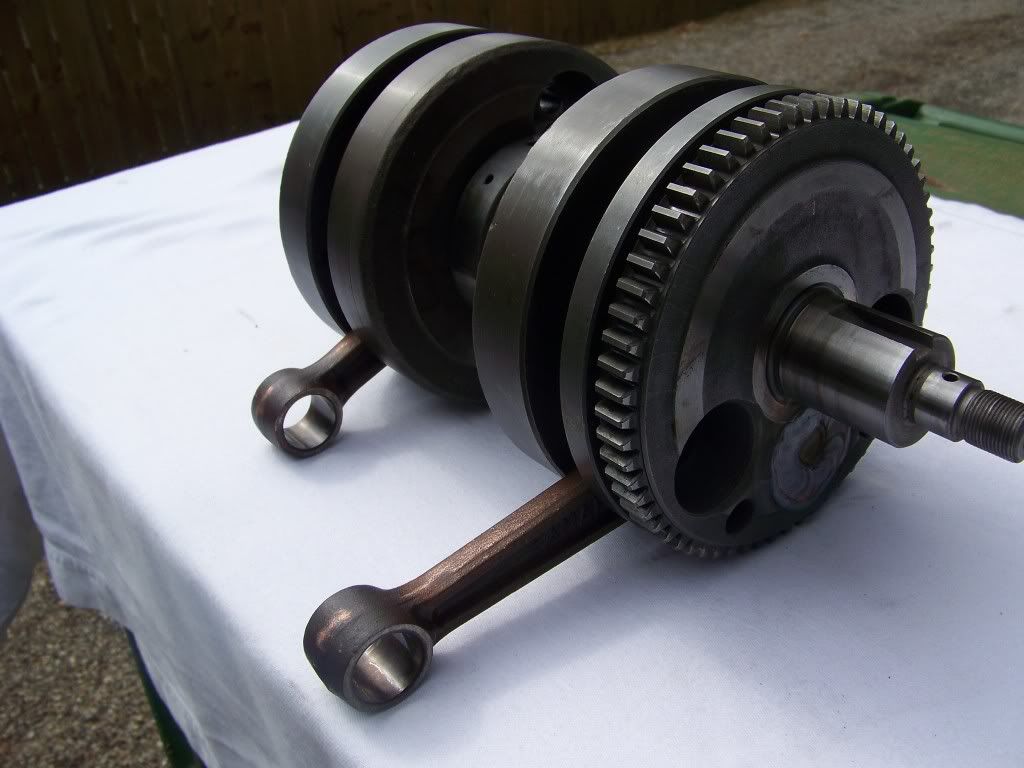 ---
Camshafts are built on your cores, and will be modified for the re-phased engine. These are machined, bored, sleeved (with specially ground material to my specs) and TIG welded back together. I can do 277 degree (most common) or 270 degree camshafts.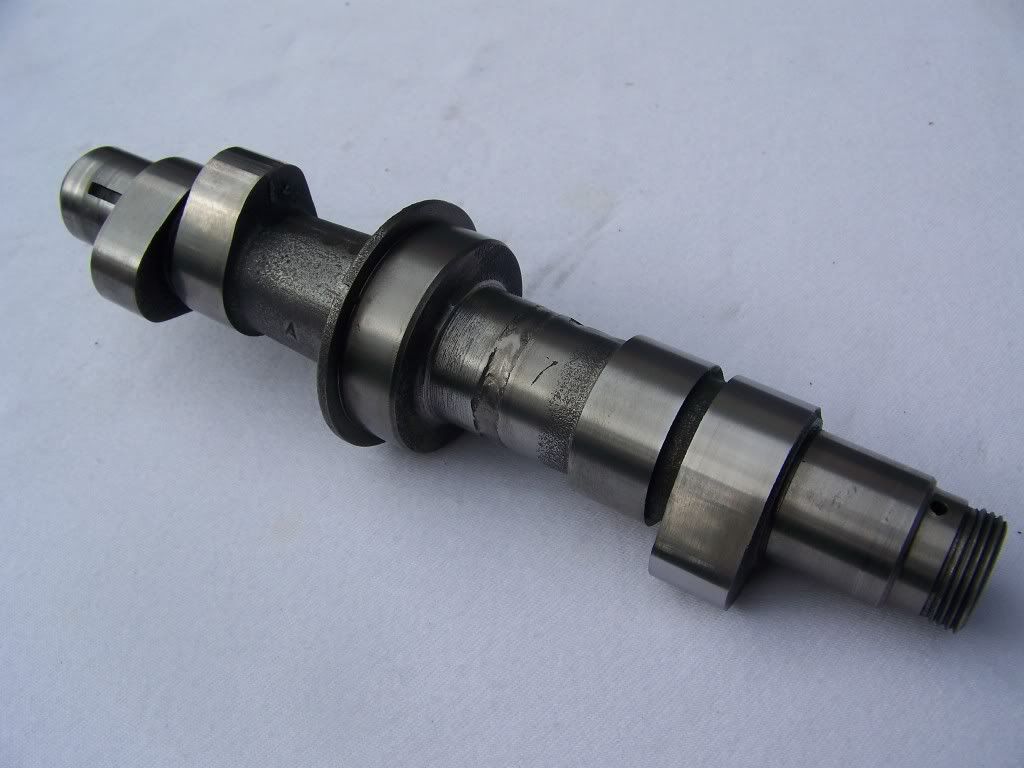 Since these are done on an Exchange basis, you'll need to send me a crank and cam to build. Turnaround time is about 3 weeks once I have received your core. When you ship to us, please ensure your packaging is good to go. Always protect the camshaft the best you can to avoid damage to it.
More on Rephasing and the Benefits to doing so here! http://www.hughshandbuilt.com/services/engine-building/
Email me if you have any other questions.
Hugh's HandBuilt